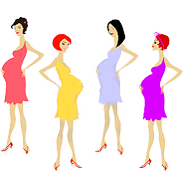 A potential surrogate mother must be in good overall health and be able to carry a child with the minimum risk to her own health. The prospective surrogate mother should be 20-35 years old. She must be mentally and somatically healthy and have at least one healthy child of her own. Surrogate mother may have no relation to Intended Parents. The marital status of the surrogate is irrelevant.
Some medical conditions may prevent a woman becoming a surrogate mother, for instance, if there are any known medical problems which could lead to complications with the pregnancy, or put the woman at risk. Therefore, all candidates are thoroughly tested for any known medical diagnoses. Also those candidates who are overweight, smoke, drink or substance abuse are not suitable as surrogate mothers because of the associated risks both to the woman and the baby.
An upper age limit for surrogate mothers is 35 years because the risk of pregnancy increases with age.
Careful consideration must be given to the medical, emotional, legal and practical issues.
Surrogate Mother Criteria
All candidates are physically and mentally healthy. Surrogate mothers should be under 35 years old, have at least one healthy child. Our candidates should have no infectious, chronic or genetic diseases. Prior to participating in the program all candidates are thoroughly tested and they undergo certain screening tests, including genetic tests in order to avoid the risks of passing on diseases or deformities to any resultant child. The tests are valid for three months. After a surrogate mother has been matched with prospective parents, she will undergo a screening process prior to starting the IVF cycle. Sometimes we have ready surrogates with recent tests which are valid for three months. The surrogate mother you chose will be examined by a coordinating doctor again before the start of surrogacy program.
Surrogate Mother Requirements
A potential surrogate mother should be:
Between the ages of 20 and 35
Physically healthy
Psychologically healthy
Have a healthy child
Non-Smoker
No current use of drugs
No history of substance abuse
No family history of inheritable genetic disorders
Dependable, mature and reliable
A surrogate mother screening includes the following:
1

Medical Screening:

This involves testing for blood type, infectious diseases, drug use and general health.

2

Genetic Screening:

Family history will be evaluated to raise awareness of possible hereditary diseases or genetic disorders.

3

Psychological Screening:

The surrogate will be asked to speak with a psychologist to make sure she fully understands the benefits and risks of surrogacy process, and has proper motivations for becoming a surrogate mother.